UNSEEN RAIN FESTIVAL April 12, ShapeShifter
UNSEEN RAIN FESTIVAL
presents
Visionary Sounds @ ShapeShifter Lab
with Sumari
Pat Hall's Time Remembered Organ Group,and Harmolodic Monk

Event: Unseen Rain Festival When: 

Sunday, April 12, 7PM

–Sumari, 

8PM

-Pat Hall's Time Remembered Organ Group, 

9PM

-Harmolodic Monk
Where: ShapeShifter Lab
18 Whitwell Place, Brooklyn, NY 11215
Admission: $15.
The artist-directed independent label, Unseen Rain Records, is bold in concept, producing radically expansive recordings of innovative jazz and improvised music. UR's array of CDs and digital downloads have been hailed as "visionary" in the international media. The Unseen Rain Festival will feature three vastly different improvisational music ensembles that offered recent releases. The event unites them under the label's banner.
SUMARI: The evening will open with the "other-world art music" of Sumari. The channeling of free improv and global folk culture with a boundless sense of the new are the path coursed by Matt Lavelle (trumpet, flugelhorn, alto clarinet), Jack DeSalvo (cello, electric and acoustic guitars, mandola, banjo) and Tom Cabrera (drumset, dumbeq, bodhran, tar, riq, percussion) to conjure abstract yet familiar sound tapestries. The band members individually have held ground with such noted avant jazz strongholds as Ronald Shannon Jackson's Decoding Society, the Bern Nix Quartet and Jameel Moondoc's ensembles, among many others.
PAT HALL'S TIME REMEMBERED ORGAN GROUP: Trombonist Pat Hall, a veteran of the Wadada Leo Smith's ensembles, will perform with the combo heard on his starkly original album "Time Remembered: a Tribute to Bill Evans". Hall's Time Remembered Organ Group—a lasting ensemble, not a one-shot tribute project–will offer unique adaptations of Evans' immortal music. The album has been acclaimed by critics, celebrating the bold concept and arrangements of this jazz icon's compositions. Joining Hall are Greg "Organ Monk" Lewis (Hammond B3), Marvin Sewell (guitar) and Mike Campenni (drumset). Hall's other UR releases include "Multiple Question Choice" and "K3rnel PaN1C" as well as "Happy House" with Chris Kelsey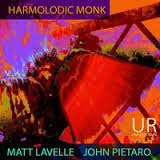 HARMOLODIC MONK: The evening will close with the duet of Matt Lavelle (trumpet, flugelhorn, alto clarinet) and John Pietaro (vibraphone, hand drums, frame drums, percussion) aka Harmolodic Monk. The pair perform the repertoire of Thelonious Monk, reconstructed by way of Ornette Coleman's music-liberating philosophy. The pedigree is there: Lavelle spent years studying with Coleman and still performs with Bern Nix; Pietaro is a mainstay of Karl Berger's Improvisers Orchestra. Harmolodic Monk's debut release, called "Disc of the Year" by several new music bloggers, compels listeners with blurred harmonies, stinging accents, crushes, soaring melodic lines and at least a little bit of the shock of the new.
UNSEEN RAIN RECORDS: MAKING THE INVISIBLE AUDIBLE…
UNSEEN RAIN is visionary record label offering jazz and improvised music by contemporary innovators on various media. UR is focused on high production values and recognizes the entire process surrounding a recording as art.
UR recordings are available in a number of formats, High Definition FLAC, CD quality FLAC, Apple Lossless and maximum quality mp3 (320k) as well as select titles on CD and soon, audiophile quality LPs.
UNSEEN RAIN's community of players, composers, producers, engineers, the folks at Qua's Eye Graphix, Beanstudio and tech/HD sound specialists are committed to the music and the art of sound. Writing in the Folk and Acoustic Music Exchange, Mark S. Tucker said this about UR'schief mixing and mastering engineer, "… Jim (DeSalvo) is the engineer, and Jim's capture of everything is arresting: clear, lucid, adroitly attuned to shifting focal depths, never at a loss, providing everything this work needed to entablature itself with zero ambivalence."
Unique ensembles like Matt Lavelle's 16 piece 12 Houses, Harmolodic Monk, Pat Hall's Bill Evans Project, Sumari, Fulminate Trio, Julie Lyon Quintet and Crossings. Innovators like percussionist/drummer Tom Cabrera bring powerful transcultural elements, widening UNSEEN RAIN's sonic landscapes. UR's steadily growing catalog includes records by important artists including Chris Kelsey, Lewis Porter, John Pietaro, Steve Cohn, Bob Rodriquez, Blaise Siwula, Michael Evans, Jack DeSalvo, Joris Teepe, Joel Shapira, Ken Filiano, Anders Nilsson, Lee Marvin, Krestin Osgood and many others.
Unseen Rain's specially priced Bootleg Series features complete, unedited, authorized live sets featuring Unseen Rain artists recorded by Gene Gaudette.
Honoring the impact that the LP album cover had in its heyday, Qua's Eye Graphix creates artwork panels, with titles, credits and tracklistings that are included with the music downloads and featured on CD packages and LP covers.
UR's sister label is foUR Records – friends of UNSEEN RAIN. foUR exists to create a forum for important recordings that were produced independently of the UR staff. Artists on foUR include visionary guitarist/composer Dom Minasi, Chicago-based drummer Jimmy Bennington and Twin Cities guitarist Joel Shapira.
————-
press contact: New Masses Media Relations
John Pietaro (646) 599-0060NewMassesMedia@gmail.comwww.DissidentArts.com