Venue: The Firehouse Space (NY)
Review by Dawoud Kringle
As the cold of the winter of 2015 gave way to spring, I went to Brooklyn's Firehouse Space to hear The 12 Houses Orchestra, the new project led by Matt Lavelle. I was interested to hear what they would sound like.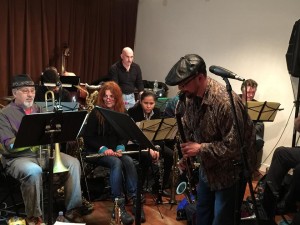 Matt Lavelle has had an interesting career. Having begun with big band studies (including a high school band tour of the Soviet Union in 1988), he went on to study with former Billie Holiday and Count Bassie sideman Hildred Humphries. He went through his apprenticeship playing "straight" jazz, and later became a mainstay in the famed "Downtown Scene." He'd played with William Parker, Sabir Mateen, Eric Mingus, Ornette Coleman, Daniel Carter, Roy Campbell, Jemeel Moondoc, and others. He'd also released four CDs as a band leader.
12 Houses are Matt Lavelle (cornet, flugelhorn, alto clarinet, conducting), Tim Stocker (baritone Sax), Charles Waters (alto sax, clarinet), Ras Moshe Burnett: tenor sax, flute), Sweet Lee Odom (soprano sax, clarinet), Laura Ortman (Violin), Stephanie Griffin (Viola), Gil Selinger(cello), Jack DeSalvo (guitar), Francois Grillot (bass), Chris Forbes (piano), John Pietaro (vibes),Ryan Sawyer (drums) and Anais Maviel (vocals)
When I arrived, the 15 piece ensemble was beginning a blues. Lavelle had said that he decided to break custom and play the blues earlier in the set. This was an interesting interpretation of blues theme, with an adventurous arrangement for the large group.
This was followed by a piece written by Lavelle's student X. It was a very potent melody and harmonic structure, filled with delightful possibilities that the ensemble explored with imagination. Like the previous piece, it was indicative of a newer direction big band jazz has taken.
The next piece was written about the brutally cold winter we had just recently endured. It had a Mingus- like quality throughout, and evoked the dark desolation and painful cold of the dead of winter eloquently. A highlight was Lavelle's solo on alto clarinet. He knows how to bring out the tragically overlooked poetic quality of the instrument.
They finished their set with an uptempo powerhouse that invoked the work and vibe of Ornette Coleman and Daniel Carter.
The ensemble was marvelous. Highlights included solos by Ras Moshe Burnett (whose Coltrane-esque explorations drew unexpected life out of the pieces), Forbes, who deftly drew upon all possible styles, DeSalvo, whose ruminations invoked Ornette Coleman 's work over a lively uptempo and trombone, whose sense of melodic invention was beautiful.
Their second set began with a piece called "Daniel Carter Blues." Moshe and Odom began a free improve duet that was occasionally punctuated by hits from the band. On occasion they played long unison note that were slightly out of tune; but the resulting beat frequencies produced a marvelous effect. A blues groove was established, and the piece morphed into a variety of moods as different soloists made their statements.
The next piece was introduced as a healing opening of the heart chakra ("You're gonna be healed whether you want to or not!"). The piano opened with a beautiful solo. The band responded with a beautiful melody that brought out a gospel groove. "Church" was given a new meaning here.
The remainder if the set was equally incentive and adventurous. Each musician contributed something unique, and Lavelle proved himself a masterful composer and conductor. You must check out The 12 Houses Orchestra.